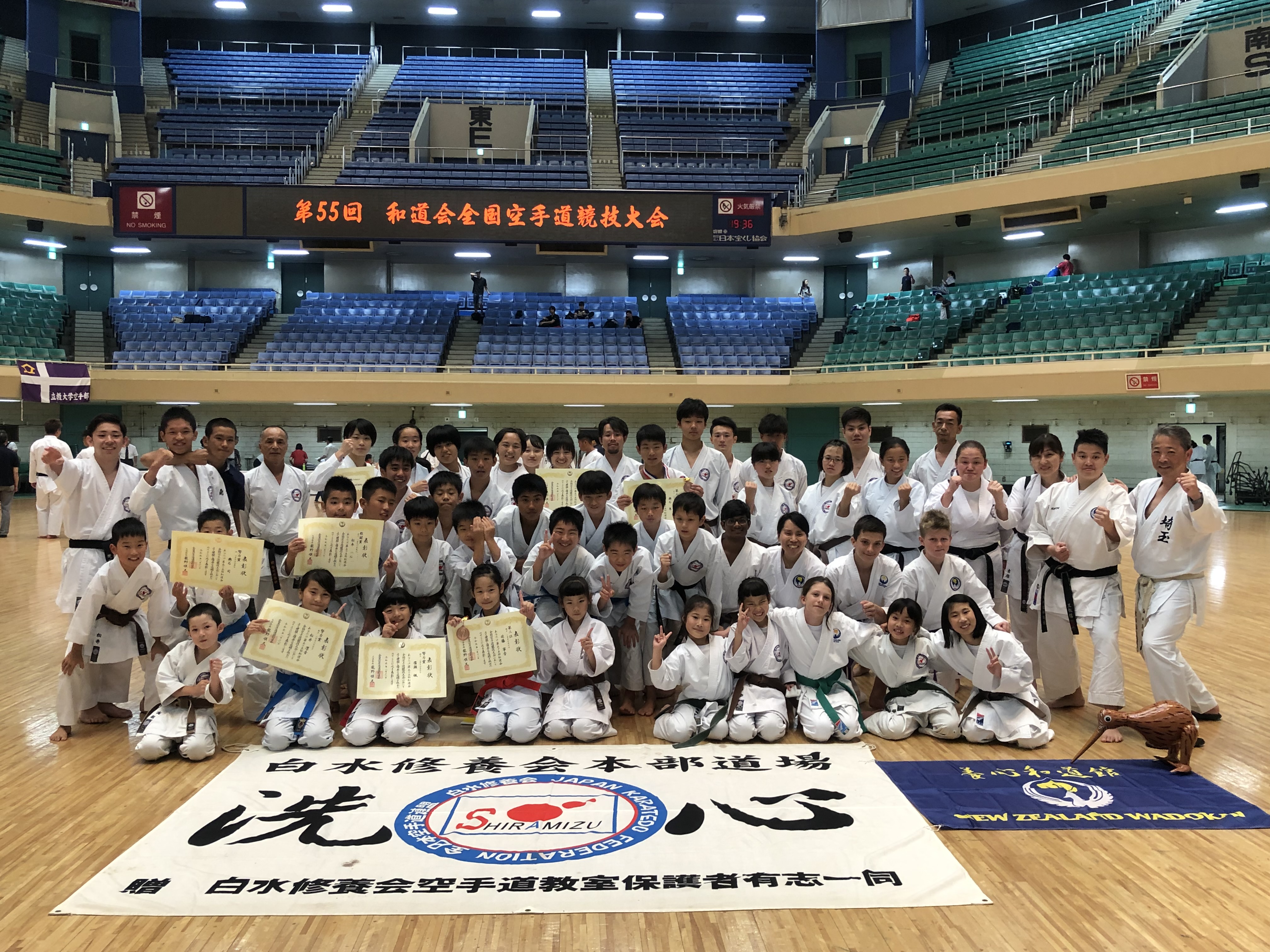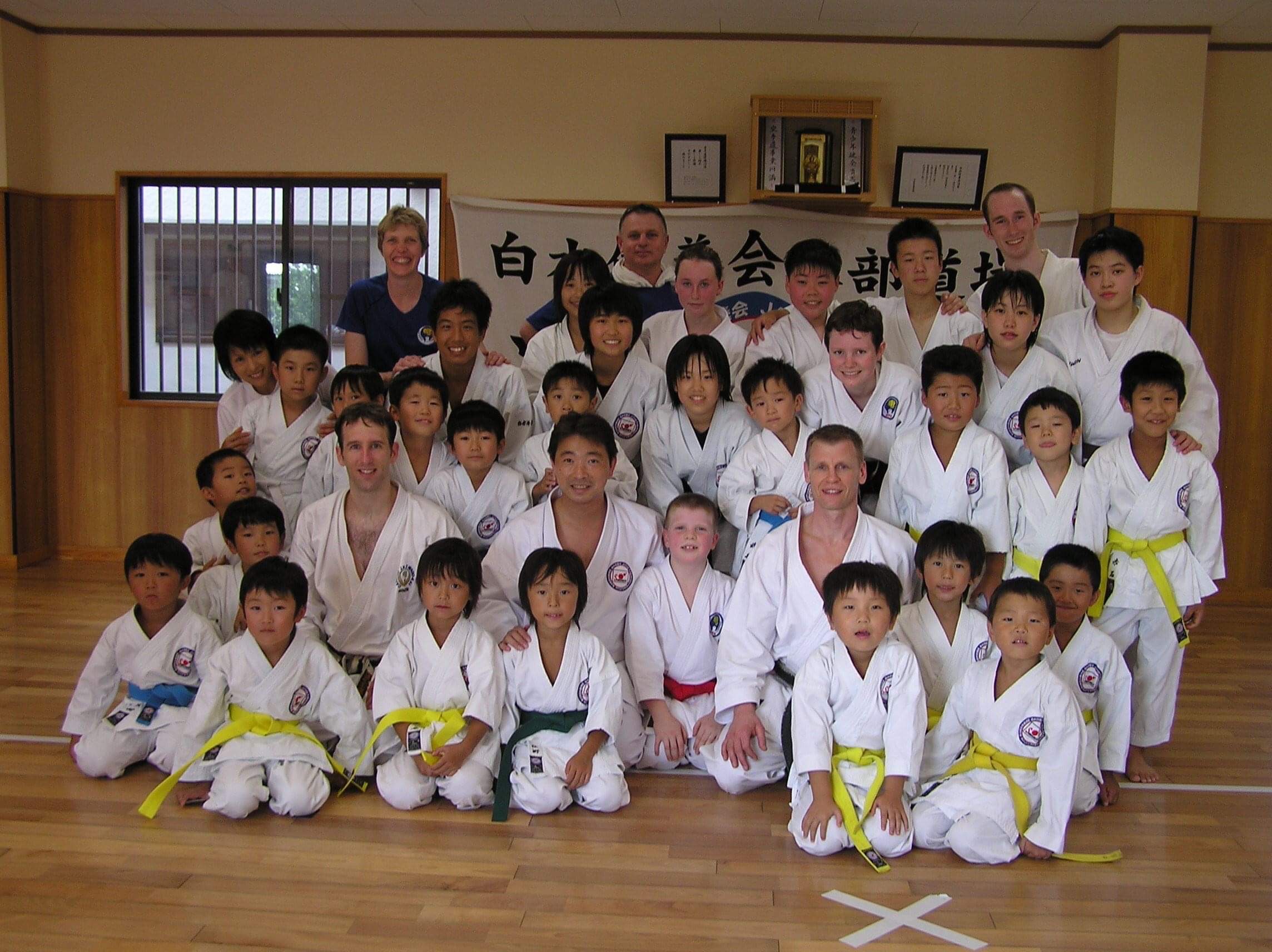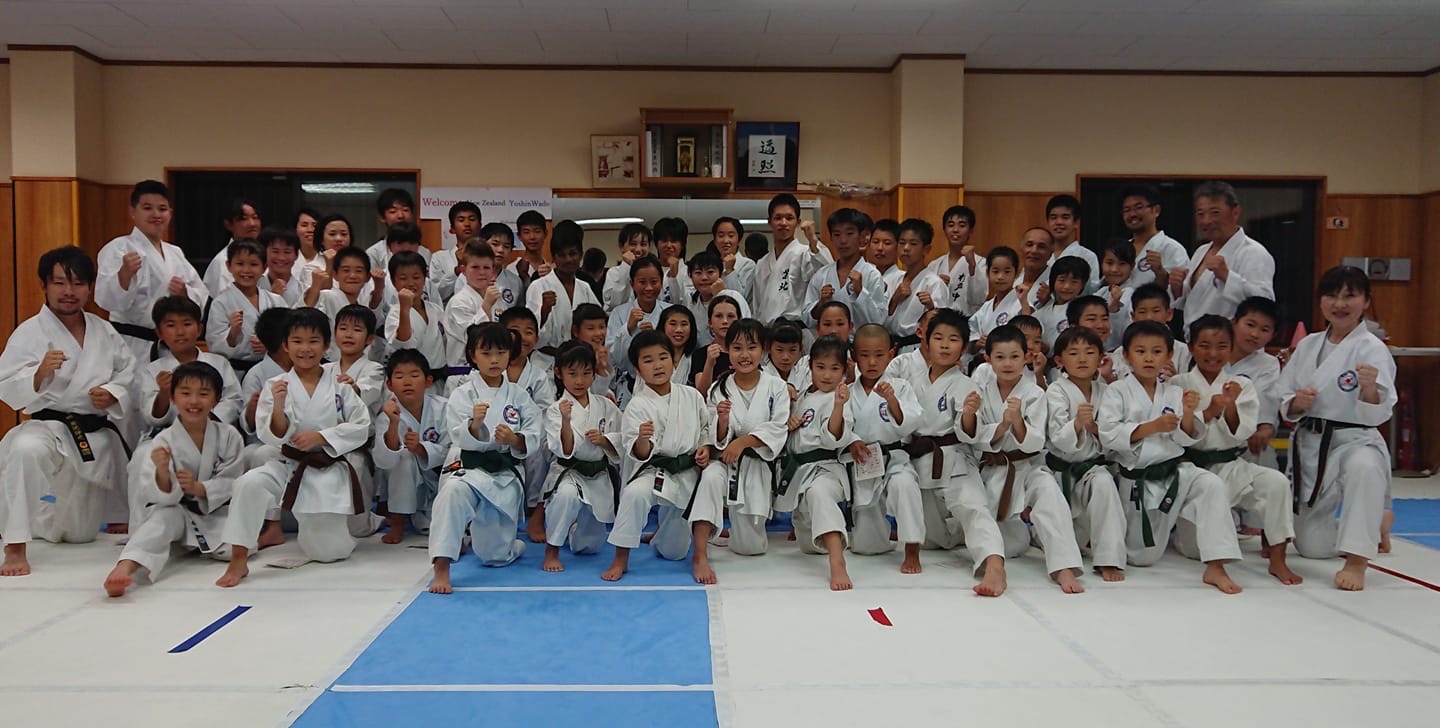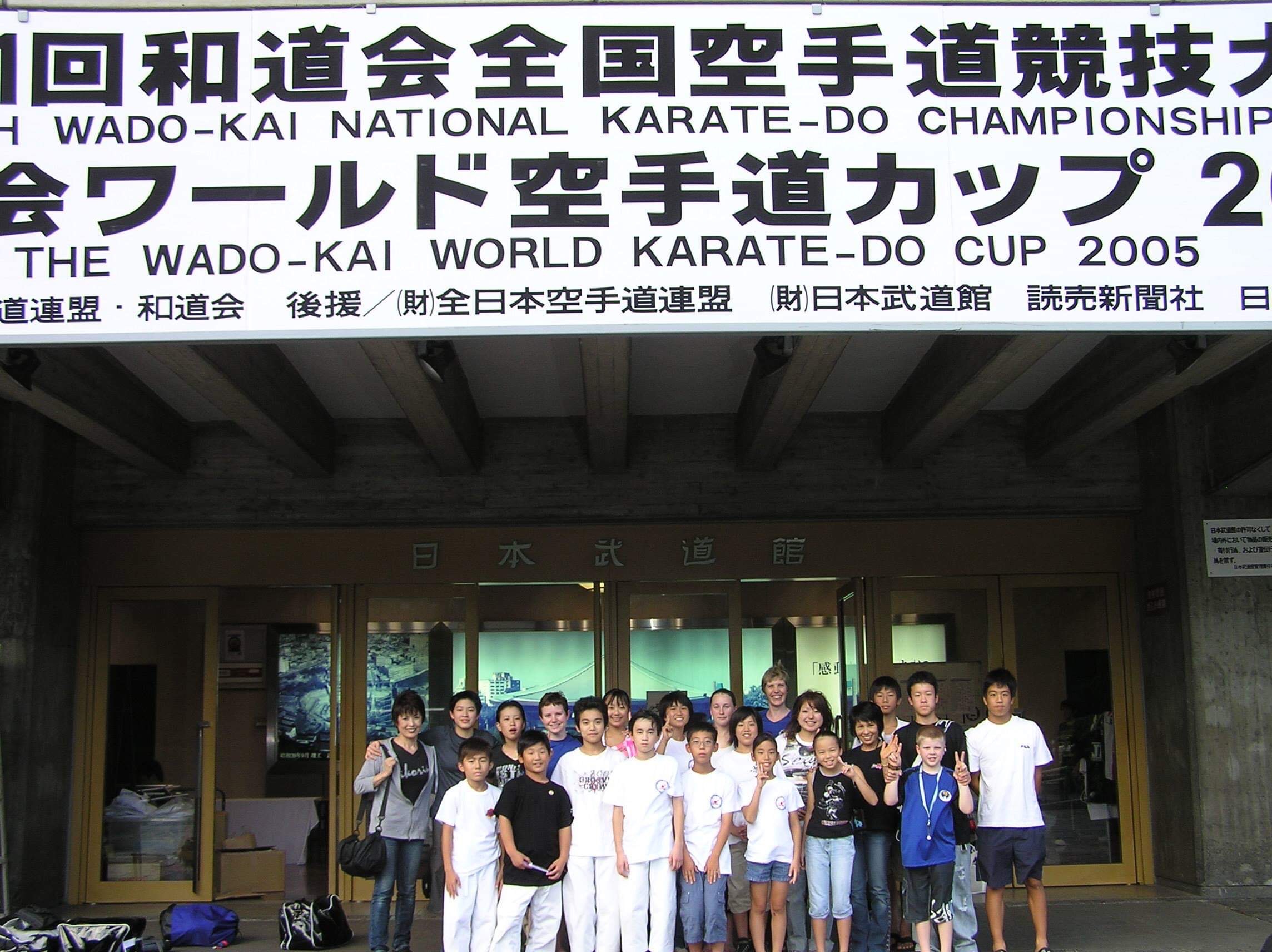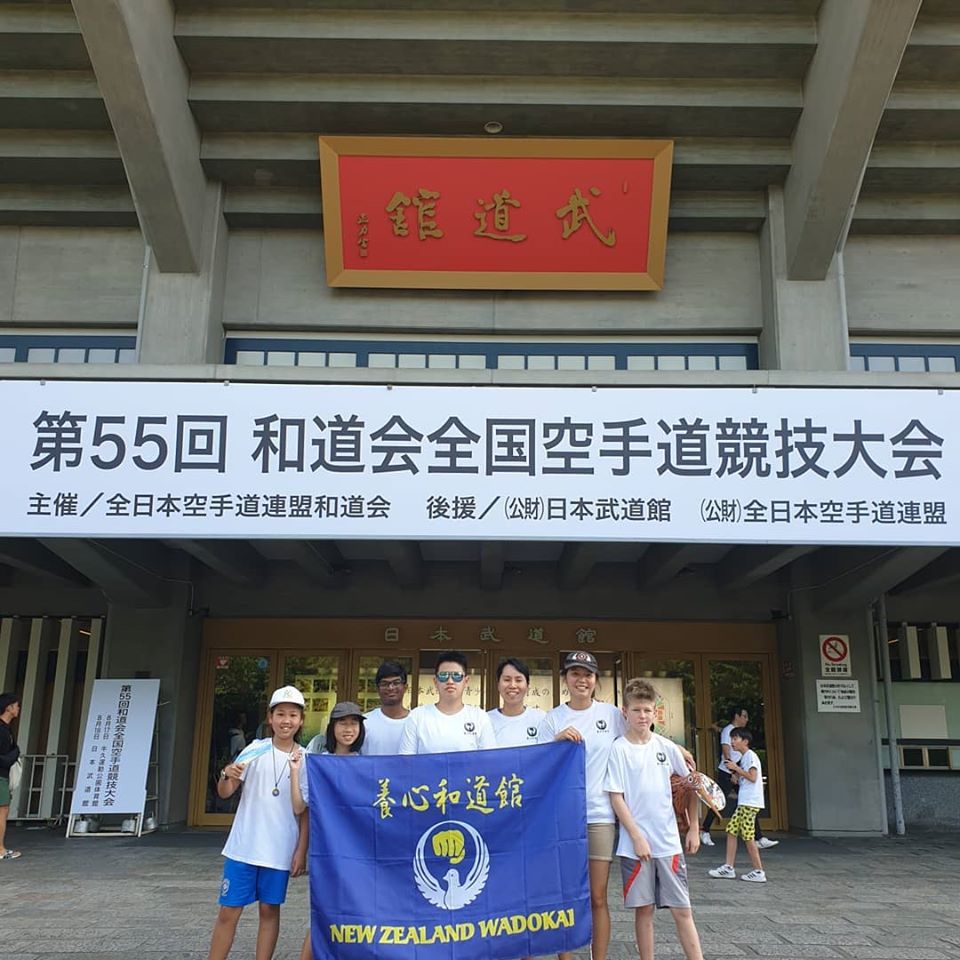 55th Wadokai All Japan Championship 2019 done and dusted...there were 2 competitors who made into the final day with top 32 & 16. Thank you for those parents that came along and supported the group and of course our supporters back in NZ who made it happen for our team.
Karate is a very big family...I started my journey with Robbie when I first arrived in NZ back in 2000...5 years later he took us to Japan to attend the 41th Wadokai All Japan Championship at the same time getting graded to black belt...now I have been looking after the tournament squad for couple of years and think it's time for them to experience what I have experienced back in the days...it's an eye opener to what a real training is...14 years later same place same dojo with new generation of karateka...they have experienced what a real training is like and the culture...hopefully they will carry on that legacy back in our dojo...because of Robbie I wouldn't even have known Takamasa Arakawa Sensei...the team enjoyed their training with Shiramizu dojo and their time at the homestay...now the kids are connected to Japan...they will be able to organize their own trips etc...my job is done ✅...14 years later hopefully this lot will be taking the next generation through what they have experienced! Once again thank you Robbie Sensei & Arakawa Sensei!

The team was also lucky to meet and train with other top Senseis from Wado...Shimura Sensei and Kobayashi Sensei and Kohata Sensei!
Of course team was also meeting up with our friends who we have met throughout the years like Rie Hirai and Honami Mori and Senri Ito and Kondo Mao and of course meeting many more people! Big thank you to Rie's mum 平井理惠 for washing our clothes while we can't do any washing! Thank you all parents for putting up with me! Special thank you to Neisha for being a very good camera man and drinking buddy ! Sorry you lost the camera and all the other valuables hopefully you can claim them back on insurance! That's my update we all had a great time in Japan ! P.S. Kids have really improved after the trip also with their manners...that's a bonus! Thank you all for looking after us!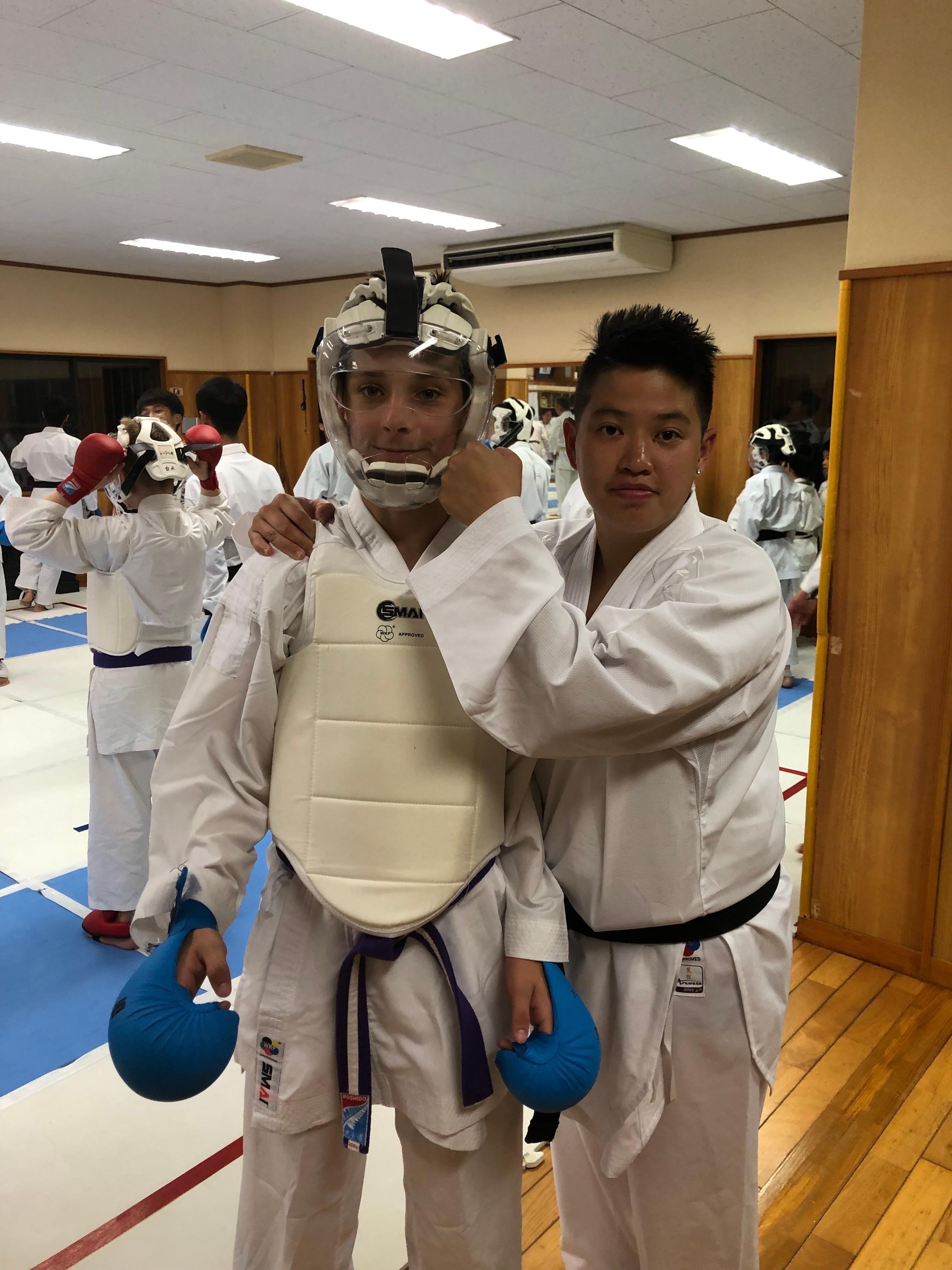 Here is the write up from Enzo Degueldre for his Japan Trip in August 2019
Japan was pretty amazing, very hot. Japan never ceased to amaze me going to Osaka, Saitama and finally Tokyo. Sightseeing was fun we visited temples, theme parks and cool places in Osaka. We walked almost everywhere and because it was so hot, we were tired even before training had started and on top of that we had to do a run. Once we were in the dojo all the boys were getting changed just anywhere and it was so hot inside and I remember everyone from our club crowding around the fan to cool off just a little. It was different in lots of ways, the discipline in a Japanese dojo is majorly different to a New Zealand dojo. The manners differ in listening to your sensei and answering back not in the bad way but in the good way by just saying "Hai". They all said something before they started training I didn't understand any of it but I would want to learn and maybe start doing it in New Zealand. We were very lucky to have such great sensei's in Japan especially Arakawa Sensei who took us to Tokyo to one of his seminars and he let us do it for free and we got to meet the chairmen of Wado karate. Japan was amazing and it all happened because of Jesse sensei thank you!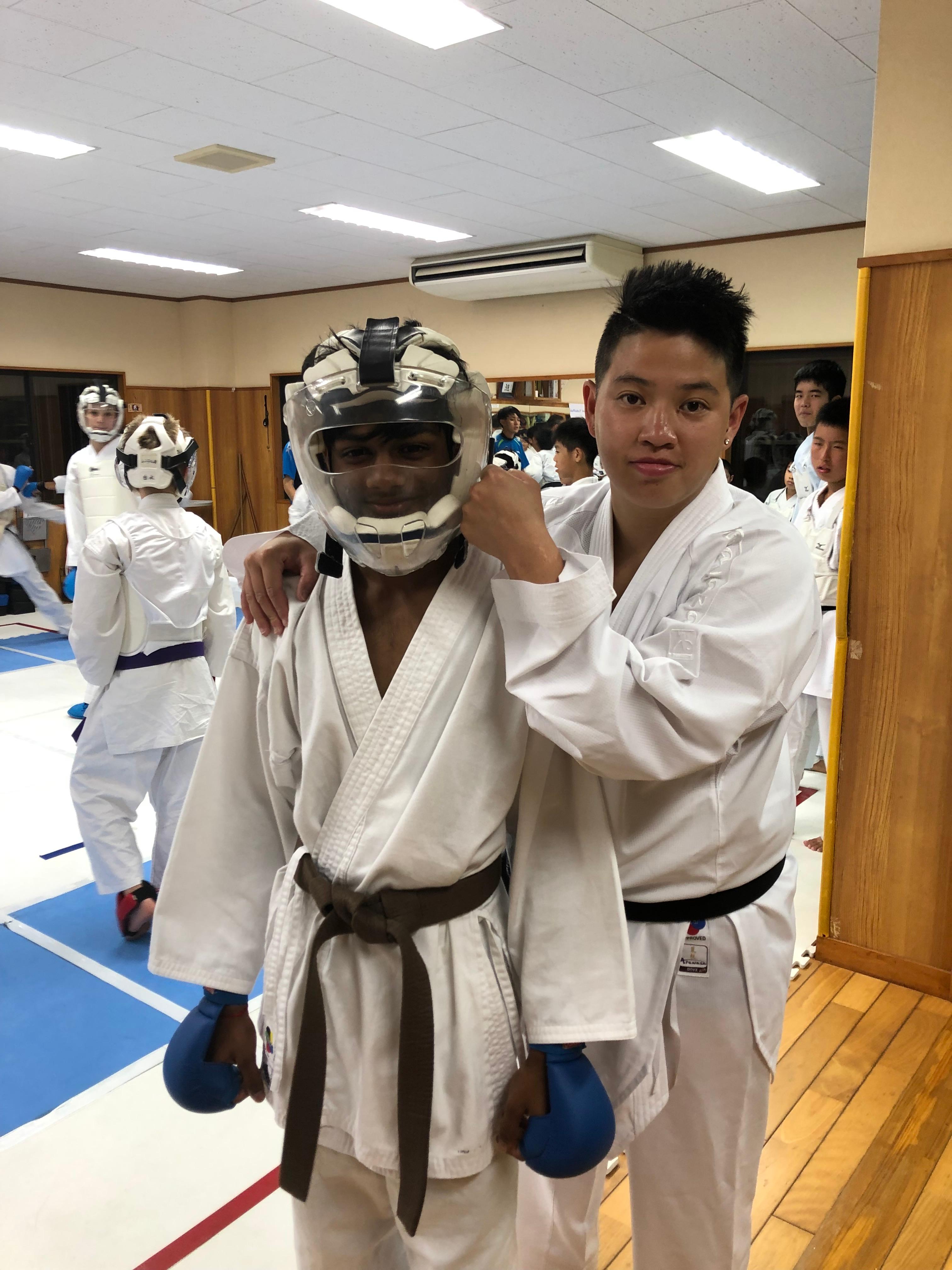 Here is what Jaivan Nair wrote about his trip in Japan August 2019
Japan was an unforgettable adventure that has been literally burned into my memories. The NZ team had the opportunity to train with Arakawa Sensei, Kobayashi sensei and Shimura sensei The training was tough and the competition in Saitama was even tougher however our team pushed through with undying persistence and learned much more than we could have ever hoped for. The experience of culture around every corner was breathtaking, from detailed structures to advanced electronics it was definitely worth much more than money can buy. I also enjoyed seeing huge civilizations and the operation of a society built on good etiquette and extremely kind people. One of my favourite parts of the trip was definitely going to Akihabara station for the day and seeing tons of my favourite anime characters and equipment, it was awesome even if most of the stuff was overpriced. Nothing beats the food in Japan. Delicious ramen and mouth-watering confectioneries takes the cake for the highlight of my trip. The hot sun in Osaka made it difficult to truly take in the visits to all the different places we sprinted around however somehow Sensei Jessie was organized and planned the whole day so that we had tons of fun. Universal Studios Japan was truly a sight to behold and I would recommend it to anyone who likes thrilling rides and insane cinematics. I Would like to thank my Homestay family for taking such good care of me during my stay and showing me and taking me sightseeing, I would also like to thank Sensei Jessie for organizing the whole trip and looking after the team and our club because without Hamilton Wado this trip would never have been possible. I would love to go back and experience this all over again as just two weeks was not enough.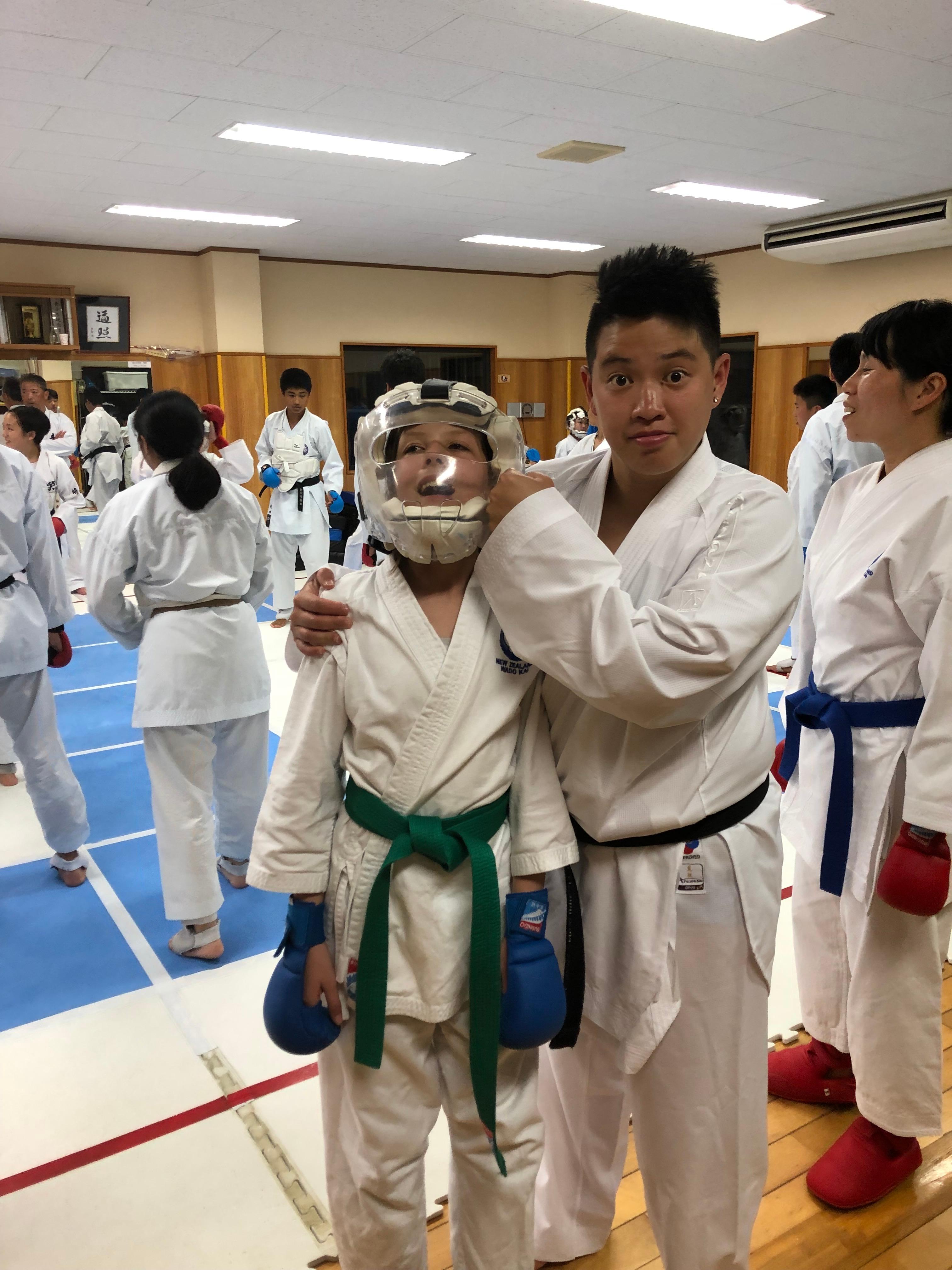 Here is what Alida Degueldre write up for her trip to Japan in August 2019
The Japan trip for me was really fun cool and different. I learnt lots of new manners in karate such as . listening when the Sensei is talking or responding whenever they say something. I feel like some of the things that I learnt should be introduced to New Zealand. Japan was really hot and humid because there is always so many people around. Which made it hard to train and sight see. I went to four different trainings with different Senseis. The Kobayashi sensei the Shmura Sensei and the Arakawa Sensei . Arakawa Sensei took me and my older brother from Saitama to Tokyo to do extra training before the tournament which was training with the chairman of waido kai. It was a great privilege to train with him and lots of black belts. The day of the tournament: when we got there, there was so many people. Even though it's a big place. When I was doing kata I did penan sundan for my first round. I did not win my round but I think that was my best kata yet. Kumite was very different for me because we had to wear head gear which was really annoying while I was doing kumite. Thank you Sensei Jessie for taking me here, training me teaching, me valuable lessons. Thankyou to all the Senseis that tort me and gave me an opportunity to try new things. One day I would like to go back to japan because it was an unforgettable experience.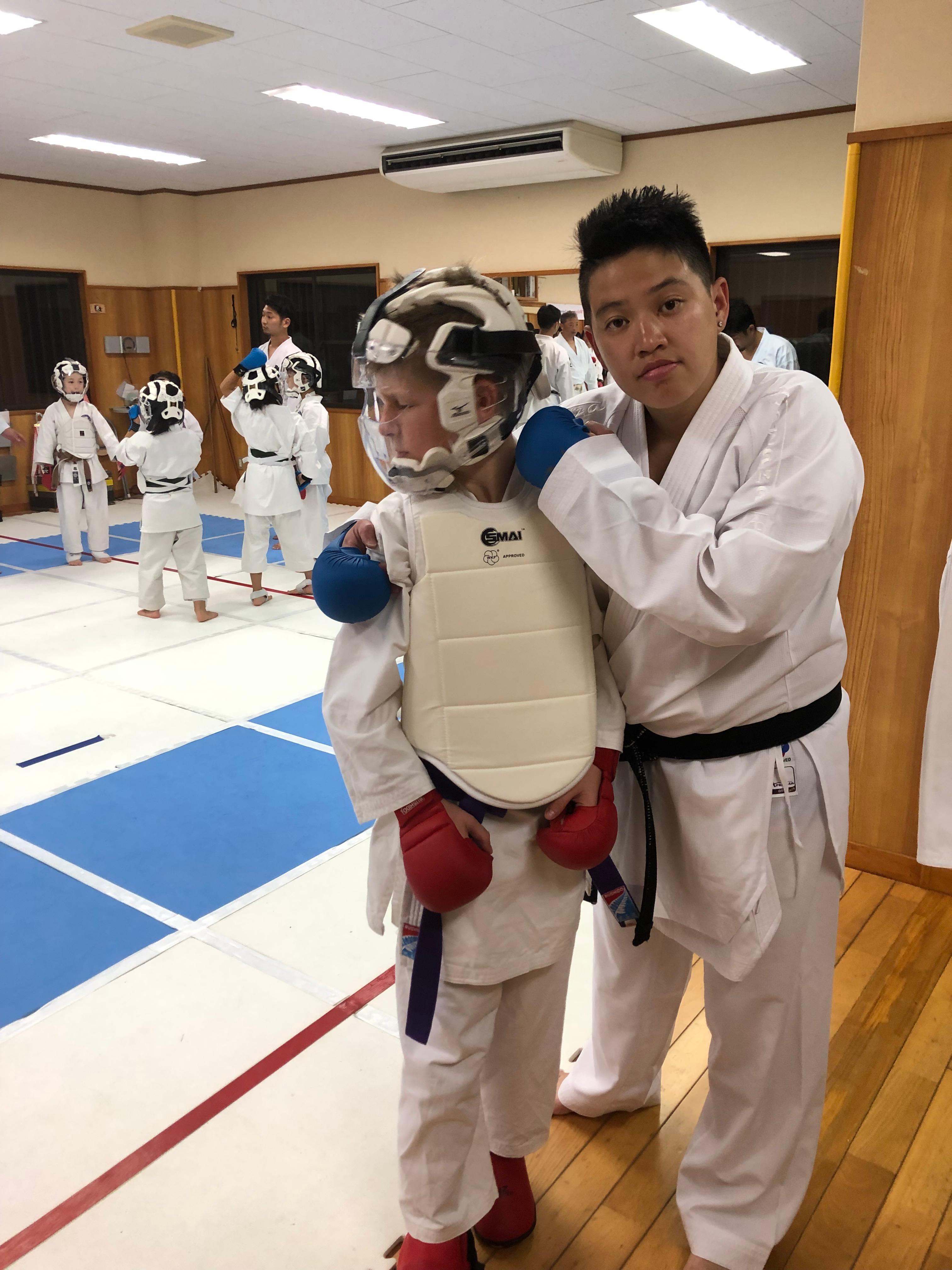 Here is what Rhy Bakker write up about his Japan Trip August 2019
My experience in Japan was so amazing as it was my first time, the culture was so much different there and I definitely was not ready for the heat.
In Japan I trained with the Kobayashi Sensei the Shimura Sensei and the Arakawa Sensei. While training with those Sensei's I learnt their way of teaching and how the students they taught acted towards those Sensei's, the stuff I witnessed over there I want to bring back to our dojo because everyone over in Japan are very respectful.
I went to Osaka, Saitama and Tokyo. I was also lucky enough to attend the tournament in Saitama, which was also a great experience. I did a home stay which was in Saitama it was really great and the families were very nice and generous. There was also the fun stuff which was all the eating, sightseeing and going to Disney Sea and Universal Studios, I preferred Universal Studios over Disney Sea but they were both great. Over all I would like to thank all the parents for coming on this trip and and helping out and my club allowing this to happen, I would also like to give a big thanks to Sensei Jessie for coaching and training us for this Japan trip, this was a great opportunity I would definitely want to go back to Japan again.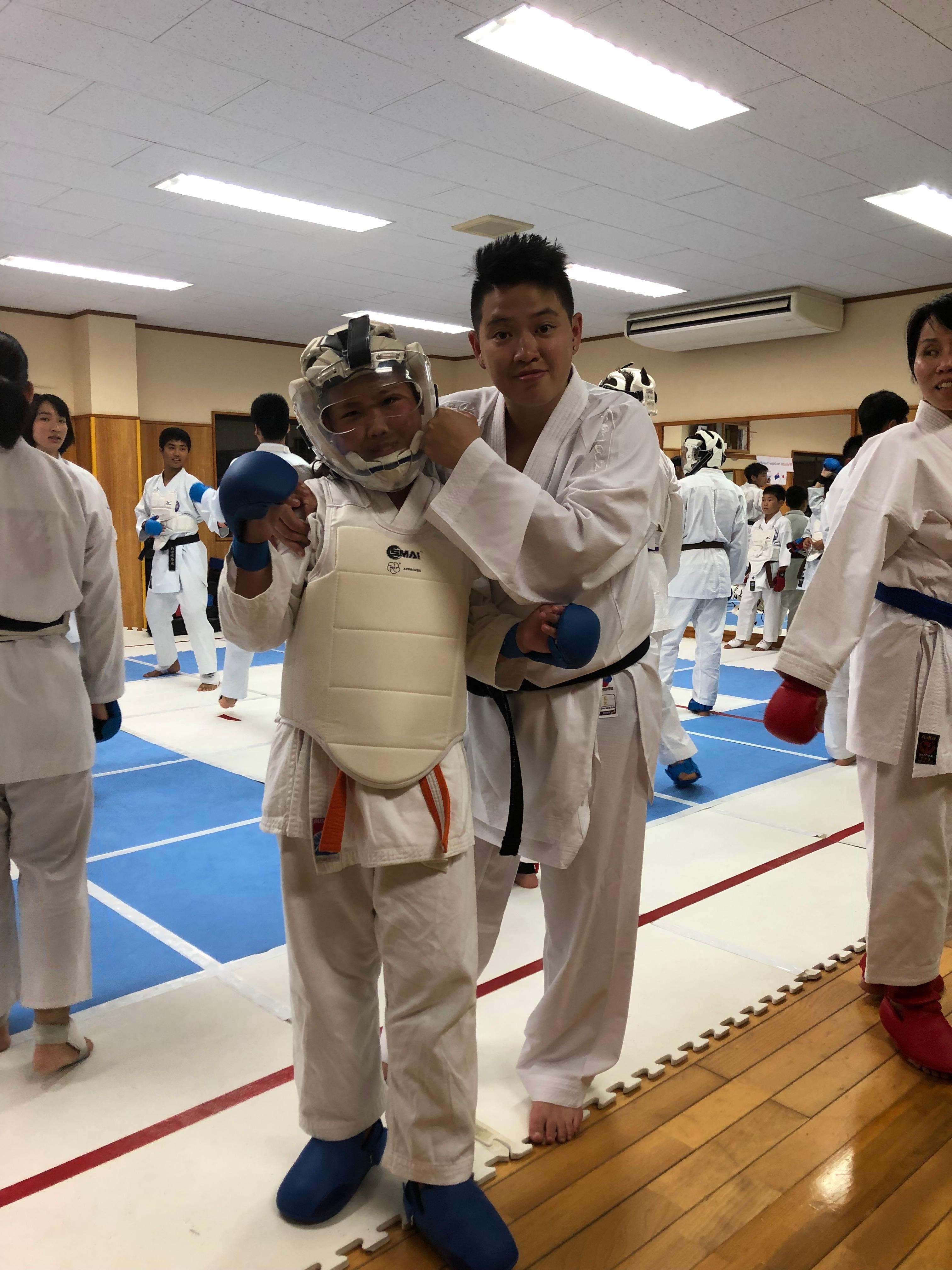 Here is what Amy Ji wrote up about August 2019 Japan Trip
We went to japan for 2weeks it was so fun we went to osaka first ,we have to catch up our subway and we work on the subway for four hours,it was really long time ,everybody was tired ,the best one is universal studios,first we went to the shark,There's an actor playing. We're being chased by sharks.we all think it was boring.second we went to minions it is a 3D car same with roller coster,my mum think she can feel fear of heights but we can't feel anything.my favorite thing is harry potter 3D roller coster we did it 2times it was like a big screen, you can sit in a car with four people.
And we went to disney ,first we went to a Submarine sightseeing car it was so boring ,second we went to toystory but it too much people so we went to a roller coster on a volcano ,it looks scared It's not scary at all after going up.third we went to Lost Triangle a Skull Adventure it looks scared but it not scared.My favourite thing is roller coster is a 360 roller coster we did it 5time then we went to a baby Merry-go-round,but you stall can feel Fear of heights.
In the karate class I learn a lot of new things I really thank you for all sinsen I will try to give my karate classmates what I have learned.
thanks again for my mum and all the sinseis.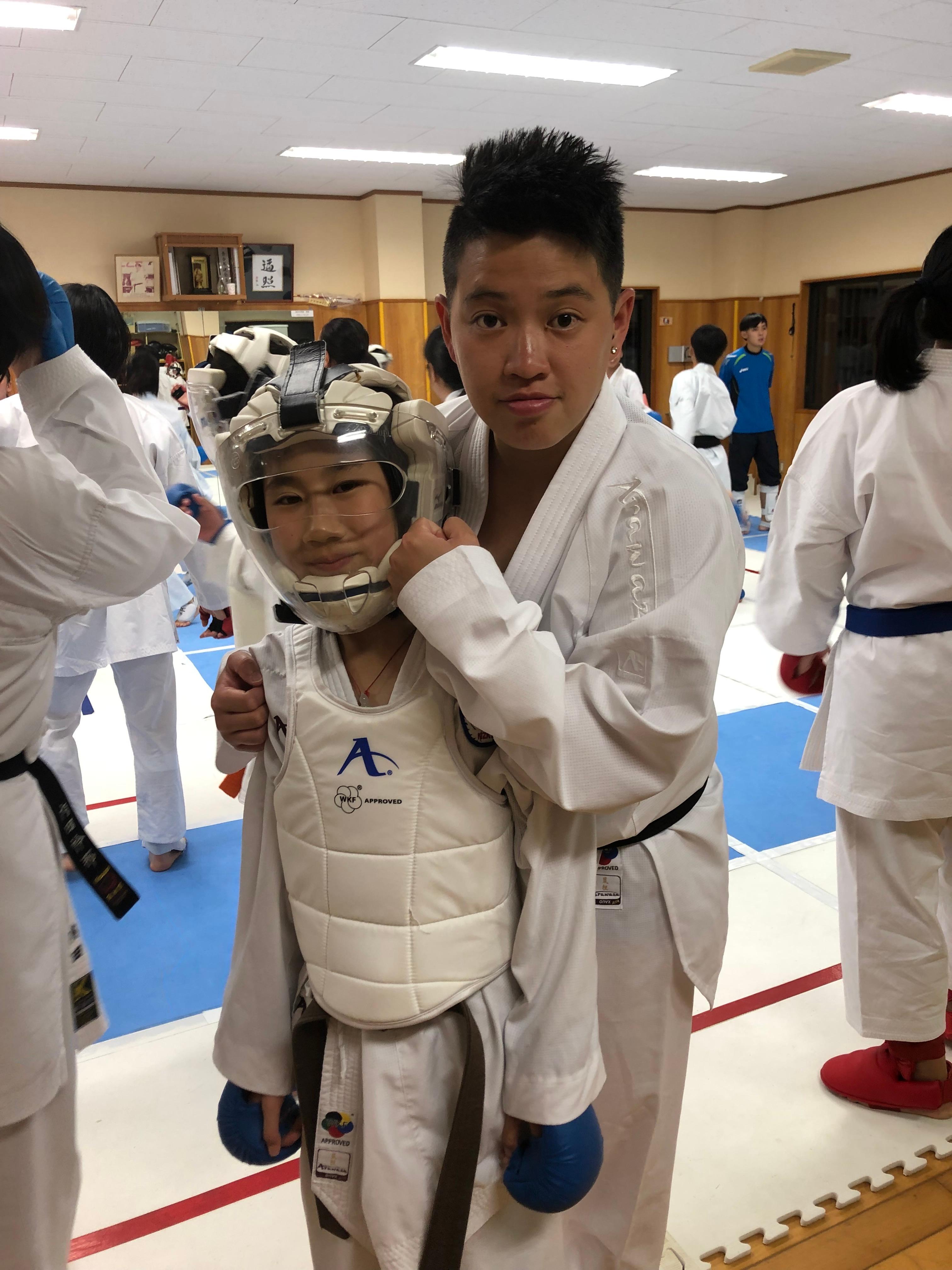 Here is what Kaylin Fong write up about her Japan Trip Aug 2019
I had a great time in Japan as well as spending some time training and hanging out with friends. I'm very thankfulto all the adults that came along and supported us. I learnt a lot from Arakawa Sensei, Kobayashi Sensei and Shimura Sensei and I hope I can share what I learnt in Japan in New Zealand. I learnt about Nugete (spear hand), that you have to place your thumb underneath the fourth finger. In Kushanku, your back needs to be straight. I learnt that from all the Sensei's.
One of the fun times I had was at Universal Studios Japan. It was so COOL! My favourite rude wad The Flying Dinosaur because it was the biggest ride there and it was AWESOME. I also experienced homestay which was very different to me but my host family was very kind. (Going on a segway is way cooler than a scooter by the way.)
I wouldn't have been able to get this opportunity without Sensei Jessie and my mum (Yoke Fong). I WILL go back in the future. Thanks again to all the lovely parents and adults for looking after us!